1890-1945
Born: Milton, MA Died: Philadelphia, PA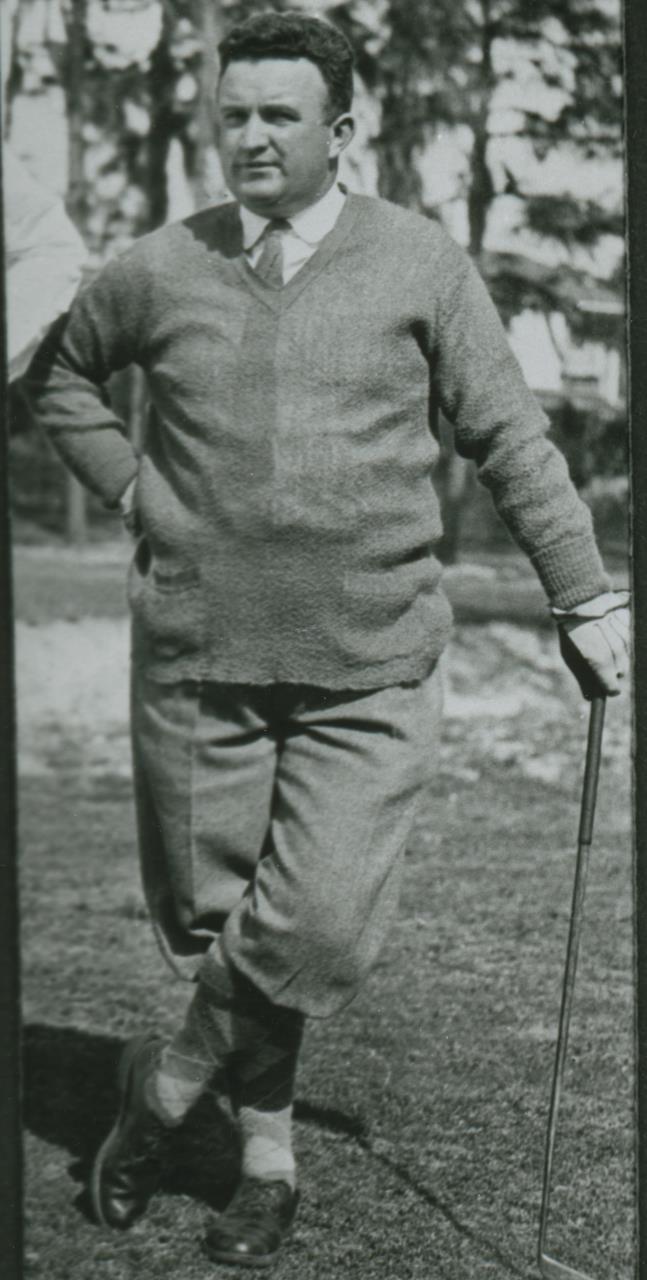 William Flynn graduated from Milton High School, where he played interscholastic golf and competed against his friend, Francis Ouimet. He was also an excellent tennis player and taught the game professionally one summer in Lake Placid. He even loved spectator sports and for a time was part owner of the Philadelphia Eagles.
Flynn laid out his first course at Hartwellville, VT in 1909. He was then hired to assist Hugh Wilson with the completion of the East Course at Merion Golf Club. Flynn remained at Merion after it opened and served as its greens keeper for a while. He found additional work laying out golf courses. He soon resigned to pursue a full time career as a golf course architect. He and Wilson had hoped to form a partnership, but Wilson's failing health prevented it. Flynn went out on his own.
Flynn proved to be a shrewd businessman, enjoyed his spirits, played bridge and hobnobbed with wealthy industrialists who would become clients. Clarence Geist hired him at Boca Raton. Juan Trippe, founder of Pan Am Airlines helped Flynn get the contract to redo Shinnecock Hills.
Flynn was known to have both an Irish wit and an Irish temper. He was apparently fearless and would take a flight in the most improbable homemade aircrafts simply on a dare.
After World War 1, Flynn formed a golf course design and construction company with Howard Toomey, a prominent civil engineer. Flynn would design a course and Toomey would handle the engineering, construction and financial aspects of the project. Toomey and Flynn also trained several assistants in the art of course construction. William Gordon, Robert Lawrence and Dick Wilson all started out as assistants in the firm and all later became prominent designers in their own right.
Flynn's second love was the art of green keeping. He lectured at Penn State and wrote many articles and pamphlets on the subject. He started a number of men in the profession, including the great Joe Valentine, longtime superintendent at Merion. Flynn was forever experimenting with turf grasses, trying over fifty strains on one project in Chicago.
As a golf architect, William Flynn was an innovator. He routinely installed three separate sets of tees as early as the 1920's. He insisted the shortest be called the "forward tees", rather than "ladies tees" so men would not be discouraged from using them. He also designed a nine hole reversible course for John D. Rockefeller, Jr. that could be played forward and backward.
We were fortunate to have Mr. Flynn design Rolling Green Golf Club in the mid 1920's and deliver us one of the most challenging golf venues in the Mid-Atlantic region in 1926, today regarded as one of the country's top classic, Parkland style golf courses.
At Rolling Green, it is a hallmark to the enduring quality of William Flynn's work that the sequence of the holes has never been changed, nor have there been any major revisions. He achieved the founders' goal of building "a golf course for golfers."